Marjo Fleuren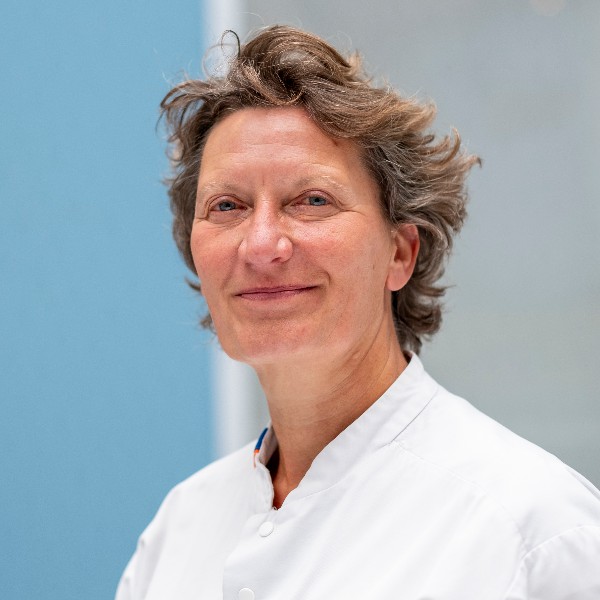 Marjo Fleuren studied physiotherapy at the HAN in Nijmegen. She also studied Human Movement Sciences at the University of Groningen. She then started working as a physiotherapist in the Rehabilitation Department of the UMCG in various clinical nursing departments.
Since 1999 she has been working at the Department of Neurology and Neurosurgery of the UMCG with patients with neurological disorders. In addition to many stroke patients, she also treats patients with movement disorders.
She also performs other duties.
She has followed various in-depth courses to refine her work. Patients with Parkinson's learn to keep moving and use their cues. She carries out physiotherapeutic diagnostics for patients with dystonia and provides advice for physiotherapeutic support for the patient in his or her living environment. Also patients with functional movement disorders are helped to get back in motion.
Her motto is 'Focus on possibilities'
Marjo Fleuren studeerde fysiotherapie aan de HAN te Nijmegen. Daarnaast heeft zij de studie Bewegingswetenschappen gevolgd aan de RUG. Daarna is zij als fysiotherapeut gaan werken op de afdeling Revalidatie van het UMCG op diverse klinische verpleegafdelingen.
Sinds 1999 werkt zij op de afdeling Neurologie en Neurochirurgie van het UMCG met patiënten met neurologische aandoeningen. Naast veel CVA patiënten behandelt zij ook patiënten met beweegstoornissen.
Daarnaast vervult zij ook andere taken.
Zij heeft diverse verdiepende opleidingen gevolgd om haar werkzaamheden ter verfijnen.
Patiënten met Parkinson leren in beweging te blijven en hun cues te gebruiken.
Voor de patiënt met dystonie doet zij fysiotherapeutische diagnostiek en geeft zij advies voor fysiotherapeutische begeleiding van de patiënt in zijn woonomgeving.
Ook de patiënt met functionele bewegingsstoornissen wordt op weg geholpen weer in beweging te komen.
Haar motto is 'Focus je op mogelijkheden'
---